Wondering what to include in a car emergency kit? There are several essential items and some pretty unusual ones, but it also depends on your specific driving conditions. Here are some tips to help you learn what to include in a car emergency kit.
Must Have Items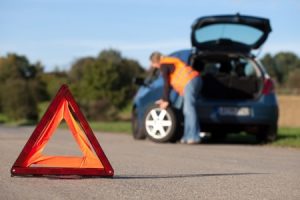 If your car breaks down and you end up stranded somewhere, you'll want more than your car manual and the package of gum in your console. Whether you're commuting to work or going on a cross-country trip, here are a few must-have items for your car.
– A jug or bottles of water
– Tire changing supplies (spare tire, tire iron, tire jack, WD-40)
– Flashlight
– Jumper cables
– Emergency information, such as a roadside assistance card and insurance
– First aid kit
– Non-perishable food such as energy bars, MREs
In addition to carrying these items in your car, it is just as important to know how to use them. Your spare tire won't do you any good if you don't know how to change it!
Personalized Items
Depending on where you drive regularly, or who rides in your car, you may need a few other supplies on hand. If you're driving around with Fido, it's wise to carry clean water and a bowl, an extra leash, treats, and waste bags. Do you have a small child? Make sure you have emergency food for your kid, and anything else they might need. If you are driving somewhere you're not familiar with, you should keep a paper map handy, just in case something happens to your GPS or phone. Going somewhere snowy? Invest in an ice scraper and some gloves.
Unusual But Helpful!
Other popular emergency kit supplies include duct tape, a change of clothes, and tools. You never know when you'll need these things, but you'll be thankful that you do when an emergency happens!
If you need auto repair in Mission Viejo, CA, call (949) 583-0811 for Japanese Car Specialties! We'll get your Japanese car back on the road in no time.