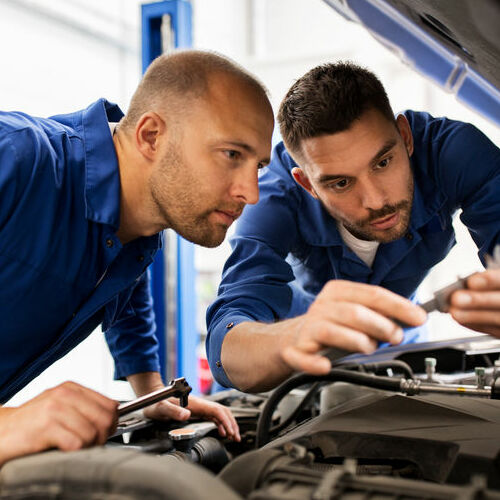 What is auto repair services?
When you take your car to an automotive shop, it's usually either for maintenance or repair. There is a difference between the two types of services, so you may wonder, "What auto repair means?" 
If you have a part malfunctioning on your vehicle that causes your vehicle to perform poorly or not perform at all, then you need auto repair services. For example, if you are driving along and have to suddenly apply your brakes, you may discover it takes longer for the car to stop or it fails to stop at all. This means your brakes are worn or damaged. You may be out of brake fluid, or your brake pads have been worn or some other part of the brakes is keeping the brakes from working safely. A mechanic or service technician can diagnose the problem and repair or replace the part causing the problem.

Maintenance, on the other hand, is a routine service like an oil change, that helps keep your vehicle running efficiently or prevents serious damage to your vehicle that will require repairs later on. It's possible when you bring your car in for a maintenance service like an oil change or tire rotation, it may need a repair. Your mechanic, for instance, might find a nail in your tire that needs to be removed to avoid a flat. The tire will need to be repaired or replaced to avoid any further damage.

If you have a Japanese- or Korean-manufactured vehicle like a Toyota or Kia and you need auto repair services in Mission Viejo, CA, Japanese Car Specialties provides a full range of services for these types of imports. Call 949-583-0811 to find out how we can help.   

Auto repair services list
When you bring your vehicle into a full-service repair shop like Japanese Car Specialties, you can expect a wide range of repairs to be available to you.

While we specialize in Japanese and Korean imports, most auto service shops will provide similar repair services like those listed below.

Oxygen sensor replacements
Catalytic converter replacements
Alternator repair
Fuel pump repair
Brake repair and replacement
Electrical system repair
Suspension repairs
Axle repair
Starter repair
Serpentine belt replacement
What services do mechanics provide?
Auto mechanics in general provide either maintenance or auto repair services. Maintenance includes routine scheduled maintenance like oil changes or tire rotations, as well as preventative maintenance services like brake checks and brake replacement. Auto repair services include repairing malfunctioning or broken parts like alternators or starters or oxygen sensors. Some auto service shops and mechanics specialize in maintaining and repairing specific parts like brakes or transmissions. Auto service shops like Japanese Car Specialties specialize in maintaining imported vehicles.

What is the difference between auto body and mechanic?
Auto mechanics and auto body mechanics differ in the type of work they do. While mechanics work primarily on systems inside the car,under the hood, such as engines and electrical systems, auto body mechanics are generally concerned with the car's exterior. They'll repair cars smashed up after wrecks or repaint them. Auto body shops are usually larger because the facilities are designed for painting the car, and require different diagnostic tools than those in mechanic's shops. Auto body mechanics require diagnostic tools like alignment gauges to check the vehicle's structural integrity to ensure it's safe to drive.
What is the Automotive Repair Act?
The Automotive Repair Act is actually the name of several similar proposals in several state legislatures, as well as the U.S. Congress, that if passed would require auto manufacturers to provide independent repair shops with the same information as they provide dealerships and dealer shops. The legislation is intended to help repair shops better diagnose problems, especially as technology advances on cars. Manufacturers would be required to share advanced information to independent shops so they could make better repairs and get parts for those vehicles. Some independent shops have to turn customers away because they don't have the right information to make the repair.

What do car repairs cost?
The cost of auto repair services will vary. The national average repair runs between about $500 to $600. Much will depend on the make and model of the vehicle, as well as the type of repair being made. Different parts will be priced differently as well, according to the type of part it is, as well as the manufacturer of the part. You may be able to save on parts by using rebuilt parts or even salvaged parts from other vehicles. Costs will also be affected by labor charges. Some shops will have flat rates that vary from shop to shop, some will have menu pricing that includes labor. Some shops will provide payment plans.

Car repairs can be stressful. But with professionals you can trust, some of the stress will ease. Stress can also come from having major plumbing problems. When you enlist the services of professionals who use cost-effective techniques like pipe coating, your plumbing worries will be put at ease.

Car repair service on road
If you have a breakdown on the road, you have several options for help to get the car repaired. Groups like AAA offer roadside assistance plans that can help you. Insurance companies also offer roadside assistance. If don't have a roadside assistance plan, you can connect to assistance using your phone to find nearby towing services and auto repair services. There also some mobile assistance services like battery charging that can help you while you are on the roadside. Often, you pay a small fee to groups like AAA if you do not have a roadside assistance plan, and these groups will help you.

Once you get your vehicle to auto repair services, you'll need to determine the problem, find out how long the repair will take, and get an estimate of the cost. You will also want to find out if the shop will honor manufacturer's warranties. If you are unable to reach an agreement with the mechanic about costs and time, you can get the car towed to another shop.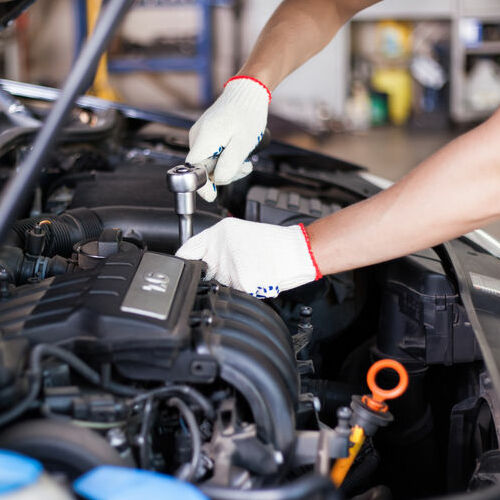 Automobile repair services near me
If you are looking for auto repair services in Mission Viejo, CA for your Asian import vehicle, get in touch with the experienced professionals at Japanese Car Specialties. We offer a full range of services. You can reach us at 949-583-0811 to learn more about what we can for you.