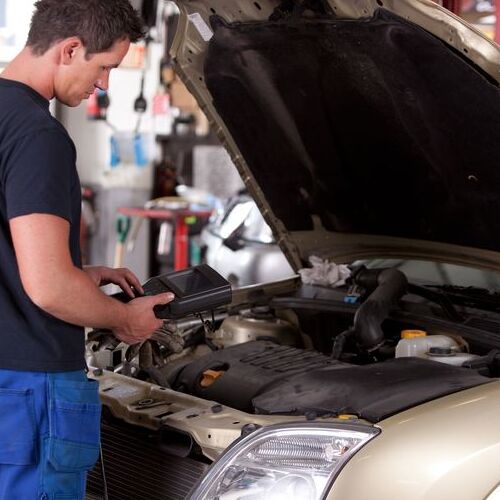 What is covered in a safety inspection?
In California, you're required to have your car inspected annually to renew its registration. These safety inspections involve emission systems checks, as well as checks for leaks, fluid levels, and mechanical integrity of your brakes, electrical system, fuel system, glass and mirrors, horn, lights, wipers, tires, steering, and suspension. If your vehicle was made in 1976 or after, you also must pass a biennial smog inspection. If your car is six years old or less, you can forego a smog inspection but still have to pay a smog abatement over the first six years of registration. Some vehicles such as electric cars and natural gas-powered vehicles are exempt from smog inspections. When it comes to safety inspections in Mission Viejo, CA, you'll get thorough service from Japanese Car Specialties. Book a service time by calling 949-583-0811.
Why would a car fail safety inspection?
In California, you can fail safety inspections for a variety of reasons:
Emissions issues: Problems with emissions are often indicated by your check engine light and could range from bad spark plugs to a malfunctioning catalytic converter. Emissions testing includes a gas cap check to ensure that vapors aren't being emitted from it. Emissions are a major component of California state inspections.
Inadequate amount of insurance: In California, you must have at least $15,000 in bodily injury liability insurance coverage and $30,000 in accident coverage to be inspected.
Leaks: Any fluid leaks will prevent your vehicle from passing inspection.
Mechanical issues: Mechanical problems can include everything from bad windshield wipers to bad tires to malfunctioning headlights to insufficient braking capabilities.
Will cracked tires pass safety inspection?
The condition of your tires plays a key role in whether you pass your safety inspection. Tires cannot be cracked or otherwise damaged, and treads cannot be worn down for them to be considered safe. You can gauge tread depth simply by placing a penny between the tread. If you can see all of Lincoln's head, your tread is at an unsafe level.
What happens if my car doesn't pass inspection?
If your car doesn't pass its safety inspection, you won't be able to renew your vehicle registration until necessary repairs are made. If your registration expires before you pass the inspection, you can be ticketed for expired registration. You also won't receive new license plates if your car isn't properly registered. Some state assistance programs are available for up to $500 in repairs if you need help paying for emissions repairs to pass inspection. You might also qualify for a vehicle retirement program for the safe recycling of vehicles that provides some financial aid toward buying a new vehicle.
Does my car need a safety inspection?
With few exceptions, almost every vehicle in California requires a safety inspection for vehicle registration. Car safety inspection requirements stipulate that most gasoline-powered cars made in 1976 or after also require a smog inspection. If you drive a diesel-powered car made after 1997, you are exempt from the emissions test. Also exempt from emissions testing are electric cars and natural gas-powered vehicles.
Everyone in the state must register their vehicle in the state if the car is based in California or if it is used primarily on highways in the state. Inspections can be performed at any official California Department of Transportation service station, including Japanese Car Specialties. All of these stations post signs signifying they are certified inspection stations. If you have recently moved to California and your vehicle is used primarily in the state, then it will have to be registered and pass emissions testing. The California emissions test must be performed on out-of-state vehicles even if you've had your car tested in another state and the car has passed that state's test. An out-state vehicle must also have a VIN inspection once it's registered in the state. If you are not a resident of the state, you are exempt from these requirements.
Which states do not require vehicle inspections?
Almost every state requires vehicle inspections except these:
Alaska
Arkansas
Iowa
Minnesota
Montana
South Carolina
South Dakota
Other states that don't normally require inspections except under certain specific circumstances include Michigan and Mississippi.
How long does car safety inspection take?
Vehicle inspection times will vary. Typically, the inspection will take anywhere between 15 to 30 minutes to complete. If simple repairs are needed, such as installing new wiper blades, the vehicle will have to be inspected again. You also typically have 30 days to make any needed repairs if your vehicle doesn't pass the initial inspection.
Where to get car safety inspection
If it's time to renew your vehicle registration and you need a safety inspection in Mission Viejo, CA, you can always count on Japanese Car Specialties for a thorough inspection. We are certified by the California Department of Transportation to make inspections. You can easily set up an appointment for an inspection by calling 949-583-0811.