Safety Inspections
Especially when they have children or other passengers in the vehicle, safety is often drivers' first priority when looking for a car. However, even the highest-rated vehicles need preventative maintenance in order to remain safe. If it's been awhile since your last Mission Viejo, CA safety inspection, call our imported auto repair shop at (949) 583-0811! Our experienced mechanics will take a look at your car to make sure everything is in working order.
Components of Safety Inspections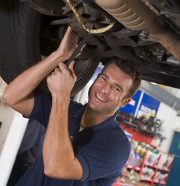 Our auto pros will check your vehicle's exterior for any damage that could be dangerous on the road. This includes the tire alignment, tread, and pressure and windshield wipers. If need be, we can perform a quick tire rotation to help them last longer. We will also check your car's fluid levels, such as oil, wiper fluid, power steering, transmission and more. This helps your vehicle perform its best. Our mechanics can also change your air filter for better air quality. We do much more for our customers with our thorough safety inspections. If you have any specific concerns, don't hesitate to let us know! We can tailor your inspection to address them.
We won't just make sure your car is safe for you and your passengers. We'll also ensure that it's in good working order to protect other drivers on the road. Whether your vehicle is Japanese, Korean or another imported brand, our mechanics can do the work it takes to keep it on the road. Call our imported auto experts at (949) 583-0811 now for your Mission Viejo, CA safety inspection!