Your suspension isn't all just about keeping your car ride smooth, although it does that too. It also plays a major role in controlling your vehicle during brakes and turns. Because these things are so integral to driver safety, it's important to maintain the health of your suspension system. To help you identify problems before they exacerbate themselves, here's a quick overview of how to detect them in your vehicle: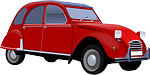 Is your car ride smooth?
This one is kind of self explanatory; if your suspension's job is to ensure a smooth ride, then it's having problems when your ride is rough. Don't endure a bouncy, jostling ride every time you leave your house; take your car in for suspension repairs.
Problems turning and braking?
If, when turning, your car drifts to the side or, when braking, your car bows forward, these are both signs of suspension damage. Suspension plays a major role in controlling your car. Centrifugal force during turns and the momentum stopped during braking push it to the side and forward respectively. Both of these problems can be major factors in causing car collisions.
Does your vehicle pass the bounce test?
This is the easiest way to determine the health of your vehicle's suspension system. All you have to do is stand in front of your car and push your weight onto the hood, bouncing your vehicle a few times. Do this again on the back. You're looking for whether or not your car continues bouncing after you take your weight off. If it does, your suspension needs to be repaired.
Don't let a damaged suspension system worsen over time. If you need suspension repairs, take your vehicle to us at Japanese Car Specialties. We also offer a host of other auto-related services. For more information, give us a call at (949) 583-0811.