Water Pump Replacement and Repair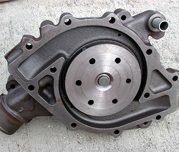 The water pump is integral to your car's health — without it, you could cause damage to your engine. Although these parts typically have a long lifespan, they do require repairs and replacements from time to time. Read more below about the function of water pumps and warning signs that yours may be going out. If you need a Mission Viejo, CA water pump replacement, call the import auto service pros at (949) 583-0811! We are experts in Japanese, Korean and other foreign vehicles.
Why Does My Car Need a Water Pump?
Your car needs a water pump to keep its engine in good health. A water pump, much like the name implies, pumps coolant into the engine of a vehicle. Its job is to stabilize the engine's temperature, cooling the engine so it never overheats. The pump is part of the larger cooling system  Without one, your vehicle would not work properly.
How Do I Know if My Water Pump Isn't Working?
If your engine overheats, it may be time for a water pump replacement. Another sign is getting a low coolant signal on your dashboard. A high engine temperature or low coolant level typically signal that there is a leak in the pump or its connecting hoses. Often, mechanics recommend that they replace the hoses connected to your water pump as well as the pump itself. It is also a good idea to replace its driving belt and timing belt in the event that your vehicle needs a water pump replacement. If you need a Mission Viejo, CA water pump replacement or repair on your Korean or Japanese vehicle, call our pros at (949) 583-0811!